It all seems pretty hackneyed. A bunch of twenty year olds are out in the countryside minding their own business when they end up stranded at some spooky old place where someone proceeds to spend the rest of the movie running around frantically serving them tea and crumpets. It seems like something which, apart from the tea and crumpets, we have all seen a million times in a million low-budget, unimaginative Hollywood slashers.
Tourist Trap, however, takes this rather basic bowl of oatmeal and spices things up by throwing in a handful of diced walnuts in the form of a telekinetic lunatic with a split personality. Thanks to his unusual abilities, much of the nut job's terrorizing of his victims is done not by his own hand but by dummies that he controls with his deranged yet powerful mind. These things not only move around but also seem to have their own weird little voices, which tells us that not only is our unhinged host telekinetic, but also a hell of a ventriloquist.
We get our first taste of the telekinetic fun when some dude goes looking for some place to inflate his spare tire and ends up at an abandoned petrol station. He goes in, and before you know it the poor bastard is trapped inside, with weird ass dummies moving about and laughing at him, furniture rattling, lights flashing, and knives and bottles flying through the air. Eventually, while the dummies cackle maniacally all around him, the poor bastard gets it in the back and dies, quietly wondering why the hell he didn't have the good sense to bring along a fully inflated spare tire.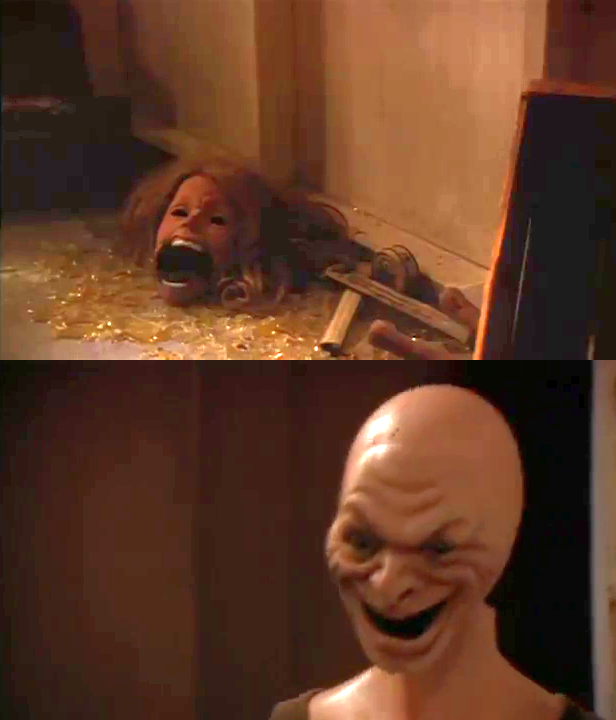 Soon after this entertaining but inexplicable kill scene, the rest of the hapless twenty somethings bump into an old man who, of course, could not possibly have anything to do with the foul play we just witnessed. This harmless old codger, played by Chuck Connors, seems to be upset that business at his third rate establishment has dried up since they done put in that there darn new highway. He also seems to be mooning over his wife, who has long been dead. How she died will come as a mystery to no one who has watched more than three or four horror movies. Yes, granddad is mad as a 'coon with his head stuck in a jar of peanut butter and he gone done away with the missus and his no-good brother who was shtupping her behind poor old Chuck's back.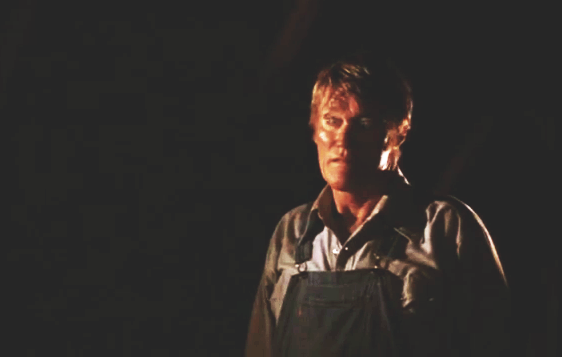 More deaths ensue, granddad runs around making funny voices while wearing a ridiculous wig, and eventually everything comes to a fairly confused ending during which the female lead seems to lose her mind. The girlie in question was always a bit of wimp so this seems to me the most likely interpretation, the other being that granddad has managed to add turning plastic dummies into living, flesh and blood people to his set of skills. Is the dummy of his wife really coming to life? Or is it just poor Molly losing her remaining marbles? Given that she then sticks an axe in the old psycho's neck and drives away with a car full of dummies resembling her friends and a big, loony grin on her face, i suspect that it is the latter which has befallen poor Molly and that she will be spending the rest of her days in a straitjacket.
Add to its offbeat premise art direction and special effects (including the dummies) by  Robert A. Burns, who worked on The Texas Chainsaw Massacre, a creepy yet faintly humorous score by Pino Donaggio, and some very good nighttime, chiaroscuro photography and you have that rare thing – a slasher movie that is actually worth watching. It's no classic, but it certainly beats watching a gigantic retard in a hockey mask playing ping pong with some teenager's disembodied head.