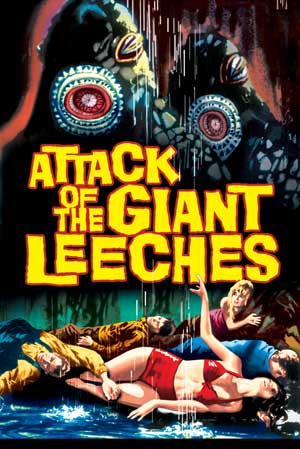 For some strange reason ( probably wanting to shut my brain down for a while, thereby preventing the kind of cerebral event that would make a real mess of my study walls) I recently took it upon myself to watch some really, really low budget movies from the fifties and sixties. This decision turned out to be a mixed blessing ; on one hand the movies were mostly crap, on the other hand they were fun to make fun of. Some were total crap, while others had some virtues, albeit very small ones. Falling into this latter category is "Attack of the Giant Leeches," a 1959 offering from American International Pictures, those well-known purveyors of fine motion pictures.
This no-budget extravaganza starts when one of Florida's many moonshine aficionados spots something weeeiiird in that there swamp, and promptly makes his way to the local general store where his fellows proceed to take his story seriously while steadfastly refusing to make fun of him. No, I'm kidding, they think he's lost too many brain cells to the hooch and suggest he seek psychiatric care. Soon, however, the booze hound is proven to be not quite as deranged as previously thought when local folks start goin' missin' round 'bouts the swamp.
This being set down South, the mix has to contain a fat ol' boy with a shotgun and this stereotypical chap is provided in the form of a deceived husband who decides to chase his wife and her paramour around the swamp – just to give 'em a good scare, mind you. Despite the presence of giant leeches, this NRA-loving donut-muncher provides the movie's most unbelievable and surreal moments. Somehow, despite weighing three hundred pounds, he manages to consistently keep catching up to the missus and her bit of rough, and does so without even breathing heavy! The other two, despite being half his size, are clearly distressed by this unexpected exertion and eventually just give up! Maybe the angry hubby could keep up with the Pillsbury Dough-boy, but these two seem unlikely losers in such a race…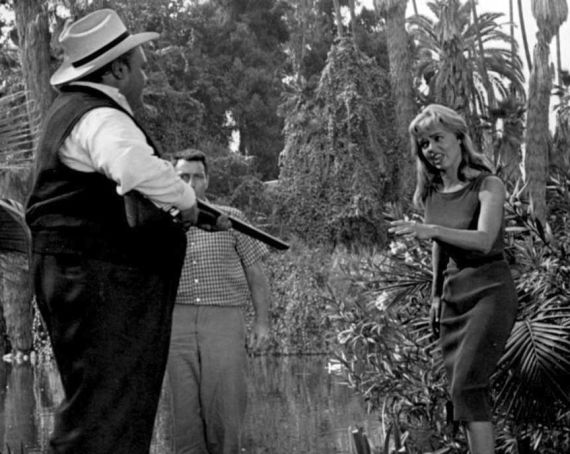 Funnily enough, this idiocy actually adds to the film's admittedly limited appeal, giving these scenes the kind of logic one finds in a nightmare – it's as if the faster they run, the closer he gets! This dodgy chase ends with the unfaithful wife and her obnoxious jerk of a boyfriend being dragged into the swamp by these two characters…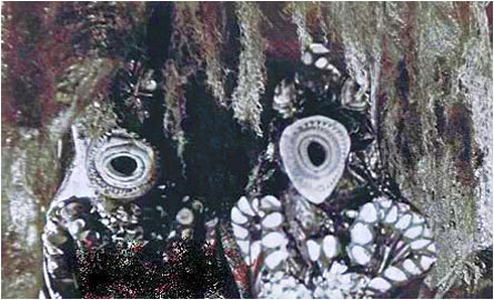 Yes, Mexican immigrants. Actually, I'm kidding again, these are the titular stars of the film, though for all I know there may well be Mexican immigrants inside those rubber suits – the film was executive produced by Roger Corman and we all know how fond he was of hiring low-paid workers. I actually like the design of these things, though they sure as hell don't look like leeches as I recall them from my leech-studying days. They are giant, though, about six foot tall, so I guess they aren't Mexicans after all – unless each suit contains two Mexicans, one on the shoulders of the other. We are never really told how these critters (giant leeches, not Mexicans) came into existence, but it is suggested by one of the local intellectuals that it may have something to do with atomic radiation from all them spaceships being launched at Cape Canaveral.
Apart from the leeches, the other thing I liked about this movie was the setting. If you can't have a big budget you can at least find yourself a picturesque location, in this case some botanical gardens in California. The cinematography is nothing special, but with a visually interesting location it doesn't need to be – for the most part you just point and shoot. The best scenes, though, seem to have been shot on a purpose built set representing the underwater cave to which the leeches take their victims in order to leisurely sup on their blood. The art director on this was Daniel Haller, who would later go on to do some very good work on Corman's "The Haunted Palace" and "The Pit and the Pendulum," so I suspect that even though the scenes are nicely lit their appeal is mostly Haller's doing…
Another minor point of interest is the presence of Yvette Vickers as the unfaithful wife. Vickers is best known as the co-star of yet another famous "Attack!" movie, namely "The Attack of the Fifty Foot Woman!" in which she played a gal of similarly loose morals, not, alas, the title character. Here's Yvette in a Playboy shoot, proving that she ain't afraid of no leeches…
Poor Yvette didn't stay this young and luscious forever, though, she surprised everyone by getting old and dying of heart failure. In fact, it was such a surprise that her body wasn't found for almost a year after she died, and then only because one of the neighbors finally noticed that her uncollected mail was turning yellow! That and all those cobwebs around her door! Could be worse, she could have been bludgeoned to death by a deranged dwarf…
"Attack of the Giant Leeches" is far from being the Citizen Kane of sci-fi flicks, but if you feel like switching off your brain and are capable of ignoring some truly awful acting and dialogue it makes for a fun(ish) hour spent lying in the dark, watching some rednecks running around desperately looking for a bucket of salt and wondering why the hell they had to go and live so close to Cape Canaveral!