SPOILERS AHEAD
In this slab of 1960s weirdness, a bunch of badly dubbed Japanese tourists find themselves in some seriously psychedelic trouble after a storm damages their yacht and the current pulls it towards a mysterious island, an island that hides a dreadful, dreadful secret…
Since there's no point to staying on a yacht that's going nowhere, the passengers and crew – a predictable bunch of stereotypes including a slutty dancer, a rich wanker, a lower class jerk, an insubordinate sailor, and so on – dive into Old Briny and swim to the shore of the perpetually mist-shrouded island.
They soon start to suspect that they are not the first humans to bump into the island as there seem to be faint trails and deliberately arranged rocks in some places. Their suspicions are confirmed when they climb the hills and find another beach, this one being home to a huge, decaying hulk of a ship…
They first spy this ship from the vantage point of a cliff, or at least that's what they tell us with the line "Careful, we're on the edge of a cliff!"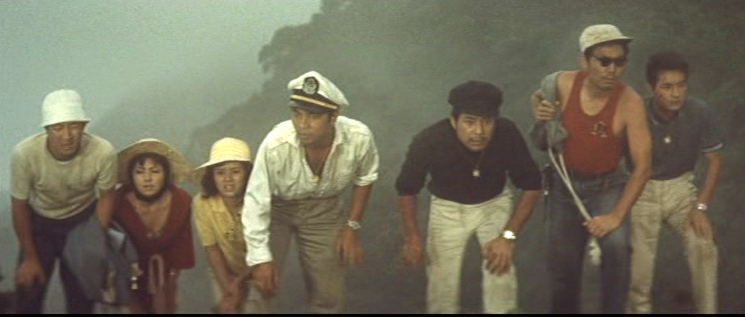 Of course, we don't actually see the cliff as everyone is shot from the ankles up, so why they felt the need to mention a non-existent cliff is anyone's guess. Soon they clamber down the cliff that the producers couldn't afford to get, and find that the ship is thoroughly messed up – its outsides picturesquely weathered, its sails rotted, its insides covered in a thick layer of dusty, yellow fungus. But the crew is missing, and all the mirrors appeared to have been removed. Uh-oh… Still, it could be worse. The ship, while not exactly five star, does provide shelter and there is even enough food to last a few days, but after that they must go foraging even though the ship's logbook points out that there isn't much food on the island except for some mysterious, giant mushrooms called Matango. These, however, should be avoided, partly as they have some sort of weird effect on the nervous system, and partly as they look like giant elephant penises…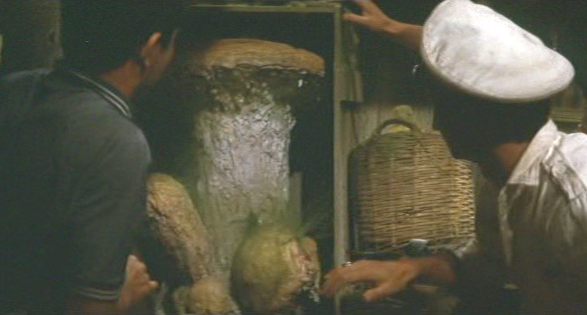 Soon two of the men go out exploring and come upon a section of forest that contains large clusters of the enigmatic mushrooms, and what's that shuffling in the distance, disappearing behind the trees? Something large as a man and bearing an umbrella-shaped head? Yes, folks, you guessed it! This is the island's terrible, terrible secret – the crew of the ship have all turned into giant mushrooms!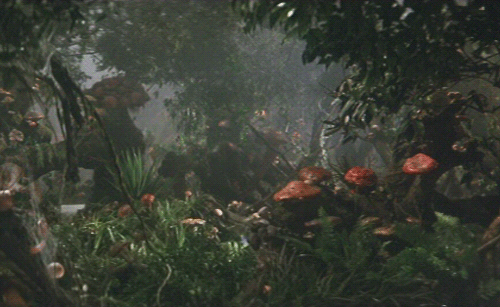 Seems that in an all-too-true example of the old saying, those who feast on the island's sinister mushrooms are themselves doomed to becoming sinister mushrooms! This grotesque fact also helps to explain the movie's otherwise inexplicable American title "Attack of the Mushroom People!" Geez, talk about spoilers, huh? Now you know why I prefer the tilte "Matango"…
But despite briefly spying one of the humanoid funguses, the characters remain pretty clueless, and so are puzzled when a mysterious, knobbly faced figure peeks in the porthole and scares the girls. Everyone goes sneaking around their new home and eventually find this intruder…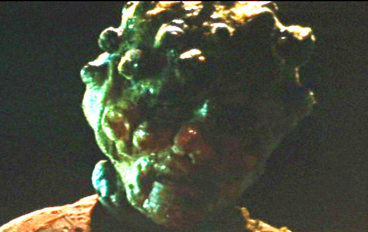 What happens after this we are never told, but it seems that he vanishes and politely closes the door behind him and the following morning everyone is trying to pretend nothing happened – there's that cluelessness again.
Unheeding of all these rather obvious omens, one of the especially obnoxious characters goes out supposedly hunting mushroom people but instead ends up pigging out on the non-human shrooms. Soon he returns to the ship and goes nuts while rambling about the wonders of "laughing mushrooms" from Japanese folklore and how the Mexicans ate shrooms in order to enhance their perceptions, then threatens to shoot all the men and rape one of the mushrooms, I mean one of the women. The other men, displeased at having one of their mushrooms threatened, pounce on him, disarm him and lock him up in a cabin. Later he is released by one of the women, the aforementioned Slutty Dancer, and once again goes nuts with the gun, this time succeeding in killing one of the men – don't worry, he was a jerk as well. Being obviously not too good at this kind of thing, he is again disarmed and then banished to the mushroom grove with his female accomplice. Soon it rains. And rains. And rains. Then, just as we are all getting sick of the rain, it rains some more. After a whole week of this downpour the mushrooms do what they gonna do and start sprouting all over the place. In some nifty shots we actually get to see the shrooms growing, and it's all very well done, keeping in mind this was the 1960s.
By eating the evil mushrooms, Slutty Dancer and her male companion have survived an entire week in the wild. How Ms Dancer's makeup and hair have remained impeccable is not explained. Perhaps when not terrifying castaways the shrooms busy themselves by running a chain of beauty salons…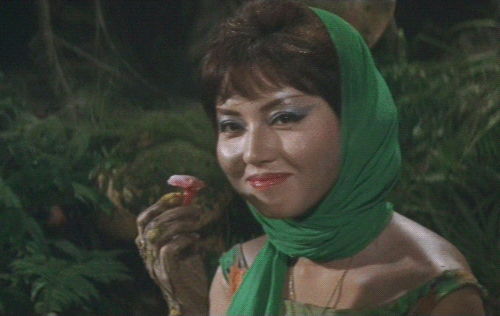 The woman in green then returns to the ship and lures one of the men to the mushroom grove by promising him a free haircut. And now things really get weird. By this time the mushrooms, perhaps delighted by the recent rains, have taken to giggling like loons. I kid you not, we actually hear a veritable orchestra of high pitched, almost childlike giggling on the soundtrack. Obviously, you can't see or hear the giggling on the photo below, but take my word for it, they're giggling…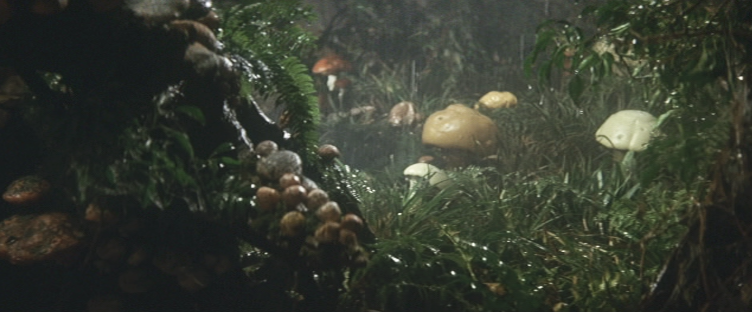 When Free Haircut Boy reaches the mushroom patch, he finds the guy who went nuts with the gun still alive, starting to go all fungusy and feasting on shrooms while grinning like a Japanese Cheshire cat…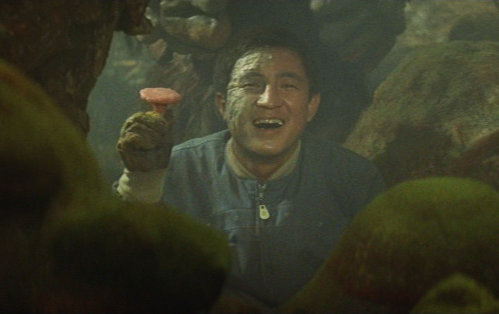 Figuring this to be an appealing fate, he starts eating some shrooms himself, but soon, offended by the possibility that the mushrooms are laughing at him rather than with him, tries to run away! But it's too late! The mushroom people are everywhere and they surround him, preventing escape. Their hideous, distorted laughter echoing in the utility closets of his mind, the man collapses, no doubt wishing he had brought some industrial strength fungicide with him…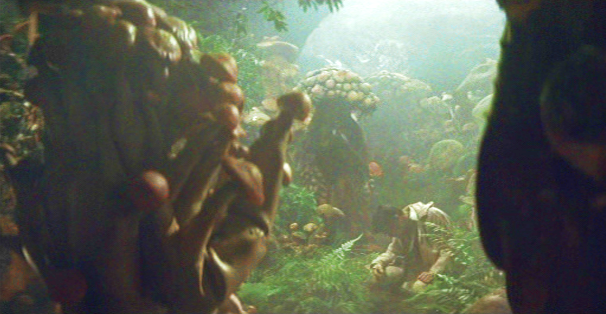 Meanwhile, the last two uninfected castaways decide to take a chance on the yacht, which has by now been more or less fixed, and make a break for it, but before they can do so the mushrooms attack, forcing our hero to commit several acts of shroom-icide. Despite his efforts the shrooms manage to kidnap the damsel and, distressed by the situation, our hero rides to her rescue. He finds her in the Grove of Giggling Mushrooms stuffing her gob and grinning insanely…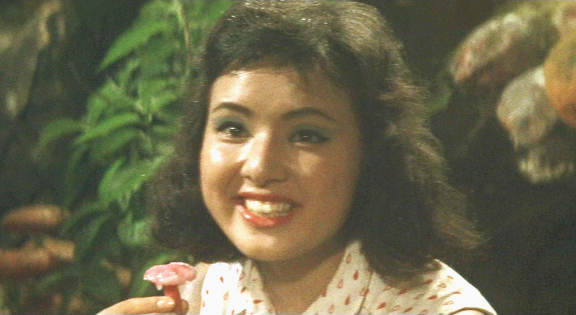 Unable to drag her away from her tasty new friends, our hero makes his way to the yacht and eventually back to Tokyo where his unlikely tale gets him promptly locked up in the loony bin. In a twist that will startle pretty much nobody, it turns out that our hero, somewhere along the way, decided to take just a little nibble and is now on his way to becoming a walking pile of fungus. In a fit of self-loathing he gives us some crap about people being cruel, and the island being a better place than Japan, and the last we see of him he is slumped against the wall, waiting to be sautéed with some onions.
Overall, Matango is an excellent bit of weird horror, with great sets and photography, surprisingly good special effects for its time, spoooooky music, loads of atmosphere and, of course, one of the most out-there premises imaginable. In fact, the whole idea is so off-the-wall that one might be tempted to say it is the kind of thing only the Japanese could come up with, but this time one would be wrong. Matango is actually an adaptation of an English horror story called The Voice in the Night, a William Hope Hodgson tale in which a couple find themselves stranded on an island where the only thing to eat is some mysterious mushrooms which then colonize their bodies and turn them into you-know-whats. But who cares who dreamed up the idea when the result is such a memorable slab of weirdness as Matango? Not me, that's for sure.